So after a year and a half of anticipation, graduation was an absolute blast! Meeting the founders and all of the staff at Animation Mentor was amazing! Also, to get together with students/peers that I've known for so long and have been through so much with in person.... priceless. It was very surreal. I'm glad that I kept this blog to look back on, but wish I had updated it more often.
We arrived in San Francisco on Thursday and trekked up to Emeryville (to our hotel). Got unpacked and had some lunch, we walked around Bay St. which is the new, fancy area in Emeryville, we were only a few blocks away from the mecca of animation, Pixar. It was nice to hang out and relax before the festivities. After only getting 2 hours of sleep then traveling from Denver, it was the perfect afternoon to unwind. Had some lunch, did some shopping, sat in the hot tub and went swimming. My friend John was flying into Oakland later that evening... after picking him up we went back to the hotel and had some margaritas.. which turned into meeting a crazy flight attendent (whom was straight) named Rob, which turned into vodkas, that turned into tequila shots, and trying to teach John how to play chess, which ultimately turned into 330 in the morning... time for bed.
The school tour the next morning was amazing. Seeing all these people that you've been in contact with since applying at the school, seeing them each week in the video news just isn't the same. We got to see where they all work, I got to sign the Alumni wall of fame, see Bobby's toy collection and play some ping pong! Such an inspiring place to be, there's no wonder it's the greatest place to learn animation on the planet! I imagine that if I ever get a full time job in a studio someday, that's what it's going to be like. From there we had to run some errands and since we were on San Pablo Ave. (if you remember from the beginning sequence in the Incredibles, they make reference to that road) we were only blocks away from Pixar. We thought that we would make an appearance and try and get a 'pity tour'. No such luck, we did talk to the security guard and it didn't sound like it was going to happen (without getting arrested). So we got some pictures and moved on. Time for the career fair. It was a madhouse of animators! I would guess about 200+ were there. A total of 6 studios showed up: Pixar, DreamWorks, ILM, Sony Imageworks, Blizzard and Reel FX. Because of the mass amounts of people the lines were super long and moving quite slow. Except for Pixar, there was nobody in that line.. sort of like the super hot chick at the bar that everyone's too intimidated to talk to! I was lucky enough to talk with Pixar, DreamWorks and Reel FX before time expired. I met some new people while in line and some 'old' friends too. It was awesome. Shortened version of that evening... Burger King, 2 Buck Chuck, Rubios, Broken Rack, throat punch (ouch), beers, Jager, walking, animators, outdoor toilet, Burger King attempt, Denny's, 330 in the morning.... time for bed.
Saturday was the actual graduation in San Francisco. We headed out in route to Fort Mason. We got to rehersals on time and saw a bunch more students I hadn't seen yet. Out of my entire first class there were only 2 people that weren't there... so it was pretty awesome knowing that back when we all began AM, dreaming of this day, we were all there (once again) to share it with each other. The rehersal was a hoot, photos, screwing around, talking with awesome people. They also put on a live QnA feed for all of the alumni, which I thought was totally rad. The ceremony itself was the best I ever seen. So much energy and entertainment. When we came in our names were in the credits on the big screen, I really like that followed by Carlos dressed up like the Avatar dude and a ninja fight followed by a touching movie about the school and it's conception. Next were the Student Choice Awards. It was great to see some of the students work up on the big screen and to hear their speeches. The guest speaker for this round was an ILM animator named Charles Alleneck. He gave an amazing and inspiring speech. Next was the announcement of names. Afterwards they put on a reception party with sushi, cheese, wine, crackers.... I got to meet Bobby Beck, Shawn Kelly and my favorite Mentor from class 4, Greg Kyle. I felt like a 12 year old girl who was meeting the cast of Twilight, gushing and hopefully not making an ass out of myself! They're such humble and amazing people they make it really easy to talk with.
Afterwards we found this amazing seafood/oyster place (thanks Yelp) in San Fran. The dinner was amazing and the company was great. I went with 2 people that have become great friends over the years. The downside was, my buddy's car got broken into... the SF police called him about 6 times, but he didn't hear his phone till after dinner. What an annoyance it was. Luckily they didn't get the cameras which captured the fore mentioned event.. they only made out with an iPod Nano, and the GPS mount and plug in thingy. Lame.
We headed over to the after-after-after party right near the Bay Bridge. The signs all mentioned 10-12 drinks so we were only planning on staying for a little while. But when we got there, they were typical downtown prices... 5.50 a beer. Excellent, we're staying! A lot more people showed up throughout the night. It was such an awesome experience to meet and talk with so many people that inspire me and whom I look up to! It was such a great night.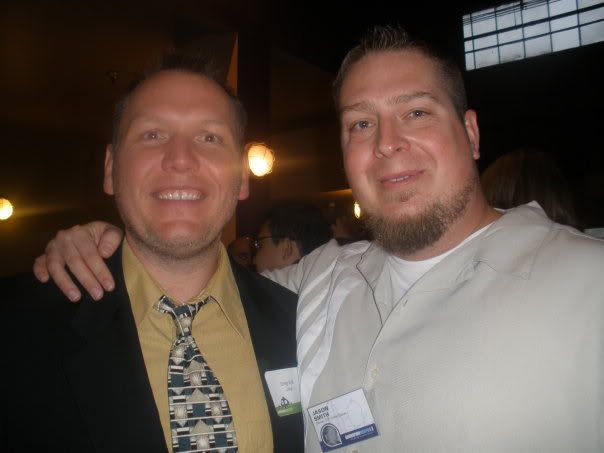 Sunday was the day to cruise around San Francisco, we saw the wharf, which honestly I've seen it enough I won't put it on the list when I got back, Chinatown (it was neat to see once, but super lame), I imagine if we were getting some food there, it might be a different story. We ventured over to the SF park, but by the time we got there it was dark (it had been raining all day). We headed back to Emeryville planning on finally seeing Avatar... we did, it was awesome. We were only 3 rows back so there were moments where my eyes felt like they were going to explode! We're going to see it next month and get there early to get some seats right in the middle.
After all the hard work of completing such an amazing school and meeting all the people behind it who make it so special I'm so glad I was lucky enough to be a part of it. I'm so inspired now to work harder and become the best person/animator that I can be. The next graduation is in July along with the AM BBQ.. I'm already starting to save up!!